Thank you to Susan Monteith of Rooted Soul Boutique for the interview for her new Papillion business at Shadow Lake Towne Center for our Papillion blog.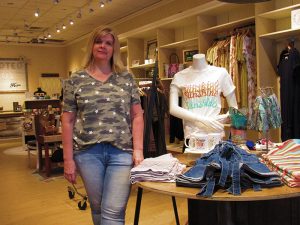 Please tell us a little about yourself and your journey to starting this business.
Well, it's such a long story. I actually come from the retail business. I was in this business for thirty years. I've managed everything from small retail to big box retail. But for a lot of my career, within the companies that I worked for, I was kind of the gal they would fly into stores to kind of fix stores that were not profitable. (stores that weren't making their numbers) And I would figure out why.
But being in that journey for 30 years, I knew the part I was the most passionate about was working with people one-on-one and I really loved the fashion piece of it.
So when we had the opportunity to come to Nebraska, it was to work for a college here. We thought that we would just be here for a couple years. There's just so much to this story …
Within that journey, my daughters are the ones that kind of pushed me to opening a boutique. They knew it was always kind of a little dream that I had. Then once we became empty nesters, it was more feasible for me. So, I kinda did online and pop ups for a year. Those went really well for me. Then I kinda teamed up with Shadow Lake and then I signed my lease. I quit my 30 year career, opened up this store and then two weeks later the COVID happened.
No!
Everything started shutting down. So for me, it was definitely a walk of faith everyday and but here we are, almost a year later, and that's kind of a real short version of my journey here.
Thank you.
How did you give the business its name?
So, that was funny. When I was really trying to figure out what to name my business, I knew I wanted to get more personal or have meaning. And when I was talking to my kids, they always reminded me like, "Mom when we were growing up, you always told us be careful what you root right?"  I always said, "If you root hate you are going to become hateful. If you are going to root love,  you are going to be loving."  And they were like, "You need to do something with "rooted" in your name." So my thing was always like be very careful what you root in your soul because that is what you are going to become. And that's where "Rooted Soul Boutique" came from.
Very cool.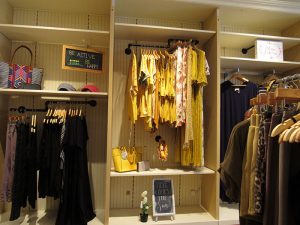 Why did you pick Papillion and the Shadow Lake Towne Center?
When we became empty nesters, we were comfortable. We had a home back in the Black Hills. My husband owned his own company. I was in the corporate world. But we just knew that we didn't want to be stagnant. And so just out of the blue, we got a call from a friend of ours that was the dean at Nebraska Christian College and she made a proposal for us to come and down and be the RLCs [Resident Life Coordinators].  And it was kind of funny because she's like,  "Your name keeps coming up. Your name keeps coming up" … We were very involved in like our youth group in our church back home but my husband also ran camps for at risk youths so every summer we would give a camping experience to kids that might not have had an opportunity to do that so we were very involved with teens and young adults and I think that is why our name kept coming up.
And so when she proposed it to us she was like, "But we can only pay one of you for 20 hour a week and $15 an hour but you get a free apartment on campus," We were like," OOO … OK" So we really spent a lot of time in thought and prayer in it and after about three weeks and, oh my gosh, were are not hitting any red lights, you know, so we pretty much sold everything we owned. We put our house up for rent and then we were at the college for almost two years and so the college was in Papillion so that got us familiar with the Papillion area and we just really fell in love with the community.
We came down to Shadow Lake mall a lot. When Old Chicago was here, we would go have $5 pizzas with all the college kids and it just kind of became our sense of community.
So, I knew when researching that a boutique that this was my first choice of where I wanted to put it and just everything fell in place for me here.
We are very glad to have you here. I enjoyed your shop and you and your staff are amazing and I love the things that you have.
Oh, thank you! You know that really was my purpose. You know, I was always telling people that I didn't necessarily to do this because you know to have a big business. For me, it was more so having a small business that could be more of a positive place to come, you know more of a positive affirmation  for women. But it was also my purpose was to be able to give back to the community and just really support women in the community, you know, and it's kind of funny me and Sarah ( who is the employee that I work with the most) you know. Every day, you know, we are like, if that is not our purpose then I don't even need to have this business. So that is why we are very much -we do a lot of things with a lot of local vendors with female vendors.
We started a thing called kindness bags. And for every kindness bag that we sell, proceeds go to a local nonprofit. So right now, we are supporting the Project Pink'd which is a local nonprofit. There is like 25-30 women. What they do is they will support women that have had breast cancer or are going through breast cancer and they help them with grocery shopping or taking them to their doctors appointments. So for me being in the community, it was important to give back through what I do here that is really my main purpose.
How do you see your business fitting into the economic landscape of Papillion and Sarpy County?

I think that what I have learned with that the Papillion community, especially the women that come in here is that they are very much about supporting local and that what I live.  And every person that, you know, that we have and the joy of encountering says, "Oh, my gosh. I want to support local I love everything that you are about." And it is interesting because now we say that we have so many friends like I have women coming in her in a weekly basis just to say, "Hi." We have had women bring us, you know, peach cobblers. We have and women bringing little gifts and visa versa. So I think for me, we have definitely been  embraced by Papillion but what I love the most is just it still has a small town sense of community  here and that is what I love. So I do see myself being here. As far as future plans, my plan was going to depend on what doors open to expand later or maybe open one or two more stores, if everything falls in place in that realm. But for me, Papillion with the experience that I have had here and the way that we have been embraced, this is definitely like our hometown store for us.
What are some of your favorite things to do in Papillion?
Oh, my gosh.  So one of the first things we did when we got here is went to one of the baseball games. And where we are from in South Dakota they don't have anything like that so that is something that we definitely love to so is going to the baseball games here so that was a different experience for us  …
For me and my husband, it's go to different restaurants. So when Copps came, you know, we wanted to support them.
We've gone to downtown Papillion before and we supported a lot of the little shops down there-the food shops, the ice cream shop, … so I think are favorite thing in Papillion is just to kind of give back two fold because we are a local business people have supported us we like to go out and support other local businesses in Papilllion so I would say that is definitely our favorite thing to do here.
Thank you.
Rooted Soul Boutique
Shadow Lake Towne Center
Papillion, NE 68046
402.506.6488
https://www.rootedsoulboutique.com